Kevin Curry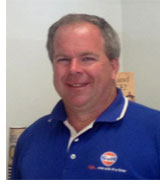 Kevin F. Curry is owner of Danby Gasoline Marketers of Meriden Connecticut, a wholesale distributor of Gulf gasoline and commercial real estate development. He began his career with Danby's Service Stations as a Certified Master ASE Mechanic in 1979 and moved through the ranks as a wrecker driver, mechanic and service advisor. In 1983, Curry purchased a partial ownership of Danby's, a multi generational family business. From 1983 until 1988 he worked alongside Fred Danby until his retirement. He then continued his management in the company as owner.
In 1993, Curry and a partner started a Wholesale Fuel Distribution company and have subsequently built it into one of the largest Gulf Oil Jobbers in Connecticut. They currently supply stations in Connecticut and New York. The company has grown from the ground up, offering almost a century of experience and knowledge of the petroleum industry to their customers.
---
Born and raised in Meriden, Mr. Curry is the eighth child of 10 children born to the late Paul Curry and Margaret Curry. Kevin was educated in the Meriden public school system, attending Hanover Elementary School, Lincoln Middle School, and Wilcox Technical High School, where he was a 1981 graduate in the Automotive program. After high school, Mr. Curry graduated from the Denver Automotive and Diesel College.
Kevin Curry's commitment to the communities his company serves goes far beyond his basic business responsibilities. Mr. Curry has always recognized the importance of community involvement and has served as the Past President of the Meriden Rotary Club, Past Assistant Governor for the Rotary District 7980, Past President of the Meriden Boys & Girls Club, a member of the Community Advisory Council of MidState Medical Center, Chairman of the Cuno Foundation Distribution Committee, and Advisor to the Meriden Foundation. He serves on the Meriden Funders Association, is Chairman of the Craft Committee of the Automotive Department at H.C. Wilcox Technical School, is a member of the Gulf Oil Distributor Council, has served as the Race Director of the Meriden Soap Box Derby, and is a board member of the Beat the Street Community Center and The Bradley Home. Today he remains actively involved in many of these organizations. Kevin also actively participates in his children's school and sporting events, including having served as a baseball and basketball coach for several years.
Kevin Curry and his wife Patti reside in Meriden with their four children, Kelly (26), Sean (24), Tara (19), Ryan (15), and Teddy, the family dog.

Share/Bookmark