Two Local Boys in Soap Box Derby
7/26/2013
Two local boys will be racing in the national Soap Box Derby in Ohio Saturday, and have a chance to win the top prize of a $5,000 scholarship.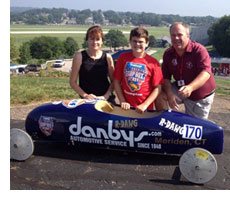 Kevin Curry, the race director for the local Soap Box Derby that takes place in Hubbard Park every year, said his son, Ryan Curry, 11, will be racing in the All American Soap Box Derby World Championship this Saturday in Akron, Ohio, with fellow racer Daniel Reardon, 11, from Meriden. Ryan and Daniel both qualified for the championship race after the Meriden race on May 18, Kevin Curry said.
Both boys traveled to Ohio with their parents and families for the race. The families are making it into a vacation, said Joy Reardon, Daniel's mother. While the race doesn't take place until Saturday, there are events to attend all week, Joy Reardon said. The cars are shipped to the event, and then during the week they are inspected and wheels must be chosen. A variety of other activities turn the race into a family-friendly, but competitive event, she said.
"There are definitely people more serious about it," Joy Reardon said. "We are just here for the experience. It has been somewhat intense and competitive."
Daniel is in his third year of racing, and is in the stock division, which involves a lighter, more pointed car, Joy Reardon said. Daniel said he didn't know what to expect when he got to Ohio, but is excited about the race.
"I knew it was going to be a lot of fun," Daniel said. "My parents told me, 'Win or lose, it's going to be a good time.' It feels like people do this a lot more than in Meriden. I used to think this was small, but it's a lot bigger here."
Daniel said the track in Akron is very different from the one he has run in Hubbard Park. Joy Reardon said the track in Akron is straighter, and the cars race three in a row, and there is a curve upward at the end of the track to help the kids slow down.
Kevin Curry said the soap box derby in Meriden was started in 1948 and went until 1950, but then took a hiatus until 2000. He said he took over as director in 2002 and liked the idea of being able to grow the program. He said there is a handicapped race as well, but Meriden winner of that race was not able to go to Ohio.
Ryan said he is excited about the race, but was conflicted about going to Ohio at first because of other summer programs he wanted to participate in. But he made the choice to go to the championship, and is excited about all the other activities his family has planned while in Ohio. Ryan races in the super stock division, and has been racing since 2008.
"I am a huge Cleveland Indians fan," Ryan said.
Kevin Curry said his family is going to a local baseball game on Thursday night, an Indians game on Friday, and already went to the Football Hall of Fame. Ryan said that when it comes to racing, he "lets it happen" and this year saw a lot of new racers in Meriden. Ryan's car is an older model, and was previously a girl's car, he said.
"We transformed it completely, adding decals and stickers," Ryan said. "We made it as manly as we could."
Ryan said he likes to name his cars, and this year's car has been dubbed "Jason." For the Curry family, Soap Box Derby racing runs in the family. Kevin Curry said that of his two daughters and two sons, only one daughter never really got into racing. Sean Curry, now 22, raced in the championship race in 2002 and placed second, winning a $3,000 scholarship.
Daniel's car is sponsored by Fiderio & Sons. Ryan's car is sponsored by Danby's wholesale fuel distribution and service centers.
-Lauren Sievert - Originally published in Record-Journal (Meriden, CT)
---
6/24/2013
CUNO Foundation Adds Members and Awards Grants
«
previous
2/25/2015
Celebration Marks 20 Years of Beat the Street
next
»

Share/Bookmark